3D constellations for online
systemic work and training
The SystemicVR 3D software tool allows systemic facilitators, coaches and trainers to create constellations with 3D virtual characters.
Virtual constellations can be viewed from above as well as through the eyes of the representatives.
In an online session (for example with Zoom or Teams) users can view the constellation and even control a 3D representative themselves.
Try SystemicVR yourself now
We invite you to try SystemicVR for a period of 1 month for free!

The trial version has the same functionality as the normal version of SystemicVR.

After you have filled in your registration details and a password of your choice, you will receive an e-mail with instructions so you can immediately start using SystemicVR.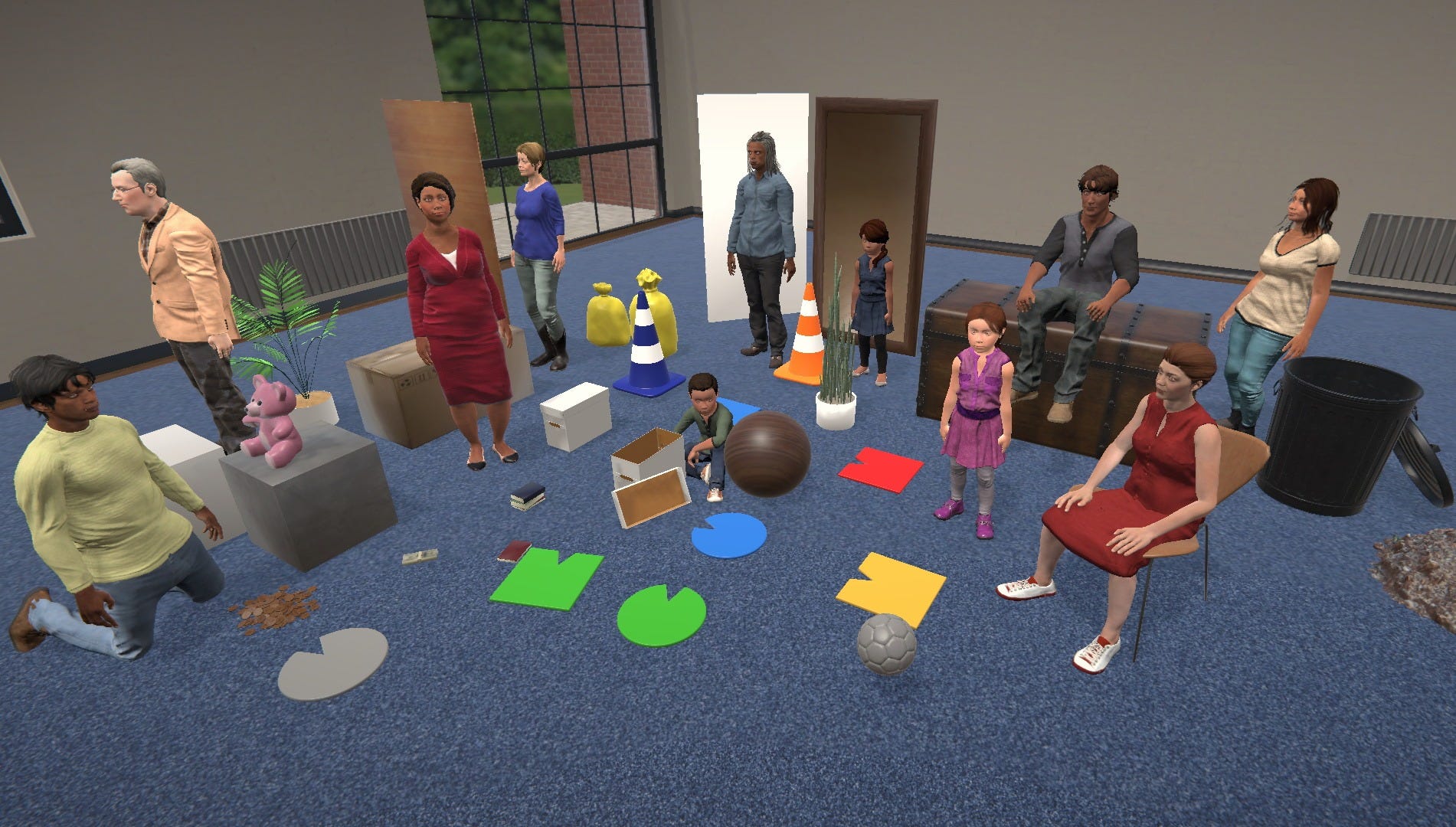 The growing library of virtual characters,
objects and symbols
Licensed users of SystemicVR can choose from over 60 virtual characters and a large number of 3D objects and symbols. We will keep adding new objects, symbols and virtual characters in a variety of ages and ethnic backgrounds to the library regularly.

Please let us know if you have a request for a special virtual character or for an object or symbol.
SystemicVR Licenses
We have designed two licenses to fit the needs of different coaches, trainers and facilitators.
Both licenses provide the user access to all functions and all 3D characters and objects in the 3D library.
Both licenses give the user access to all upgrades to functions and the 3D library.
Pay per Time license
This license is designed for coaches, trainers and facilitators who use SystemicVR less regularly but still wish to have full access to all features.

---
Pay when you are using SystemicVR
---
Pause option to keep SystemicVR active without paying
---
Phone and e-mail support
Unlimited Use subscription
This license is designed for coaches, trainers and facilitators who use SystemicVR multiple times a week with their clients.

---
Monthly subscription allowing unlimited use
---
No text banner appears on screen, no disturbance during preparation
---
Phone and e-mail support
Covid-19 "Social distance proof"
The 3D virtual constellations can be used to provide coaching and training "at a distance" using video conferencing technology.
1 on 1 and group or team-sessions
With the right video-conferencing solution SystemicVR can be used to run sessions with single clients as well as groups or teams.
Training, learning and intervision
You can use SystemicVR for intervision as well as for training and learning purposes. With SystemicVR you can perform exercises and set up constellations.

For schools and trainings institutes we offers special packages so your trainers and students can use SystemicVR and have their own license. For more information and pricing please contact us
Many ways to look at constellations
Clients and the facilitator, coach and trainer can view the 3D virtual constellations from any point of view. They can freely move around the virtual room.
User friendly and cost efficient
The SystemicVR software is very user friendly. Furthermore with remote training you have no more cost to rent space, travel and pay for lunch.
About the Authors
SystemicVR was developed by an enthusiatic team of professionals from different backgrounds.

Marion Latour is a experienced facilitator, systemic coach and trainer in constellations and systemic coaching. During the Corona-crisis she wanted to do constellations online and thought about a program where you can do constellations with virtual reality.

Martijn Boosman is a designer of virtual reality simulation tools and has created and managed multiple companies in the field of VR simulation solutions for training and education of emergency responders.

Ferran Julia is a gifted software developer and a firefighter as well. Ferran programmed the SystemicVR software using the input of Marion and Martijn.

Nienke Privée is a skilled make-up artist for special effects and TV/movie productions. Nienke applies her make-up skills when using 3D design and character animation software to create 3D characters for SystemicVR.

Tiago Tavares is an experienced 3D Modelling artist. Tiago has created the 3D rooms as well as the objects and symbols in SystemicVR.

For more information, about Marion's company Aletaya who is responsible for introduction of SystemicVR into the field of systemic work, please visit the website of Aletaya.